As Halloween approaches, the age-old question arises: Do you go out on the town to seek cheap tricks and thrills, or do you treat-yo-self to a night in with a bag of candy and hours of horror movies? Regardless of what you choose, we know a sesh is still on the itinerary. Here's our all-star line-up for a spooky af Halloween.
Ghouling Out on the Town: Portable Choices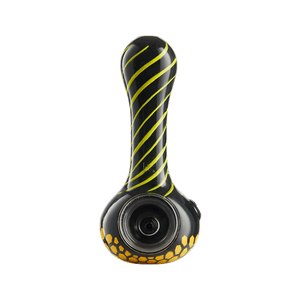 Nothing handles excitement quite like an Eyce product. Its unbreakable, ultra-durable exterior makes for the perfect toss in your bag-and-go products. Made of platinum-cured silicone, this won't break, even if you find yourself running from your town's local axe murderer.
What's a night out without a little puff-puff-pass action between you and your friends, and that weird guy who is always in a clown costume no matter the time of year? The Groove CARA is perfect for this occasion. Its easy-to-use design ensures everyone gets their fair share of the Halloween happenings. Pass it around, and maybe ask if anyone knows that guy in the clown costume?
Seriously Spook Stay-In: Tabletop Treats
Higher Standards x Banana Bros. OTTO
A.I. can be scary, but not the A.I. used in the banana bros. OTTO. Employing their own innovative A.I. grinding technology, the OTTO has been engineered with a spring-loaded grinder that mimics human hand grinding gestures, allowing for its content to be ground to uniform perfection.  Mill, fill, chill at the touch of a button, that's it, no weird blood rituals required.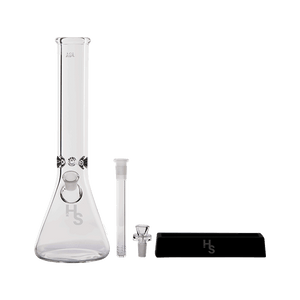 If blood and guts aren't your vibe this Halloween, might we suggest the Higher Standards Beaker? This elegant, high-quality piece is handcrafted from durable medical-grade borosilicate glass, with a wide base for supreme stability and a ground-glass connection for an airtight seal. It may not be a horror classic but is most certainly classy.
K.Haring Rolling Tray
Can you use this during your next session? Sure can, but you can always use it on Halloween to hold your candy assortment. We love a multi-use product. Adorned in classic Keith Haring designs, this piece fits in perfectly with the Halloween festivities. It also doubles as a shield during those scary movie scenes.
We promise no matter what you do on Halloween, these products are guaranteed to make the night that much better. Wishing all you ghouls and goblins a Happy Halloween!