420 Vape Zone's Top 8 Vaporizer Review
Researching and choosing a vaporizer today is a bit of a daunting task. After connecting hundreds of people with vaporizers that fit their needs and lifestyle, I've put together this list of my most recommended cannabis vaporizers:
Don't be fooled by the size of this little guy – it's a real workhorse. The CF is small enough to fit a shirt pocket, but powerful enough to produce fat lung-busting draws through a water pipe. Its giant chamber holds enough material to bring several friends along on your journey to the moon. The combination of conduction with convection produces great vapor at both high and low temperatures. Easy micro-usb charging means you can charge pretty much anywhere without worrying about special chargers. The CF gets 7-10 sessions per charge.
The PAX Plus vaporizer is a new dual-use vape for dry herbs and solid concentrates from PAX Labs. It's discreet, pocketable, sleek, and boasts a beautiful aluminum finish. Dual Use Vaporizer. The PAX Plus can handle both dry herbs and solid concentrates. Simply swap the oven lid with the concentrate oven lid, and you're good to go.  Is the PAX Plus for me? The PAX Plus is the ideal dry herb vaporizer for those seeking a simple, portable device that doesn't require a smartphone app. Just turn it on, use the single-button controls to set your session, and enjoy up to 2 hours of battery life. Explore the 4 session modes to find the perfect one for you.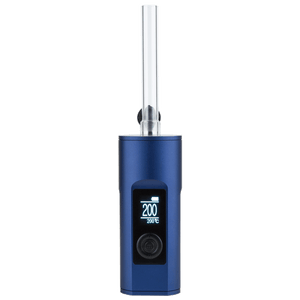 The Arizer Solo II  offers a faster heat-up time, improved airflow, and up to 20 uses per charge! With its efficient power usage, this vaporizer ensures thick clouds throughout the day and night. The precise temperature control provided by the digital readout enhances the flavor to the maximum. Not to mention, the all-glass airpath preserves the authentic taste, while the convection technology extends the battery life. To turn on, simply hold the power button for 5 seconds, and adjust the temperature using the up or down buttons. The Solo II will heat up and the digital readout will indicate when it's ready to draw. With its all-glass airpath, 3x faster heating compared to Solo I, digital temperature control, and excellent flavor transfer, the Arizer Solo II is the epitome of vaping perfection.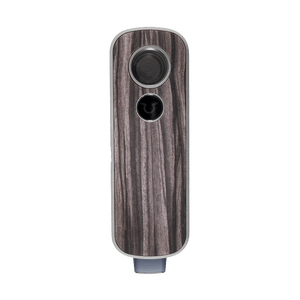 The new Firefly 2+ with improved airflow, battery life, and all the features you loved about the Firefly 2. It uses touch sensors instead of buttons and can be paired with a smartphone app for temperature and touch adjustments, giving you more control.  It works well with both concentrates and dry material, ensuring efficient vaporization. The Firefly 2+ is the only vaporizer with dynamic convection, heating up as you draw for maximum efficiency. Key features include pure convection, quick heat-up time, touch activation, and a borosilicate glass vapor path. The Firefly 2+ comes with a 2-year warranty and includes a rechargeable battery, charging dock, USB cable, and concentrate pad.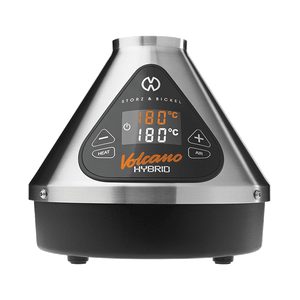 The Volcano Hybrid, a dynamic desktop vaporizer that combines the best of both worlds: balloon and classic whip-style inhalation. With the Hybrid, you can enjoy your sessions using either the valve balloon system or the rotatable tube option, which offers minimal airflow resistance and quieter draws. Experience smooth and flavorful vapor without combustion, thanks to the powerful 100-watt heater that pushes air through the vapor path.
Key features of the Volcano Hybrid include integrated touch buttons for easy operation, a quick 40-second heat-up time, and a rotatable tube system for added convenience. The temperature range of 104 °F to 446 °F offers versatility, with German engineering and a combination of conduction and convection heating, the Volcano Hybrid delivers an exceptional vaping experience.
There is no portable vape as capable and pleasurable as the Mighty. Gentle enough for low temps and fragile lungs, but powerful enough to plow through a load in 4 or 5 giant draws. The vapor from the Mighty (and little sister, the Crafty) has a cool and fluffy feel, similar to bag vapes. Two giant batteries, AC quick charger, full temp control, and quick and easy unload/reload make this vape is the BMW of battery powered vapes. It's a bit on the large size, but I still take it out and about. That's what cargo shorts are for. If you want amazing vapor with no learning curve and no footprint, the Mighty is the vape to get.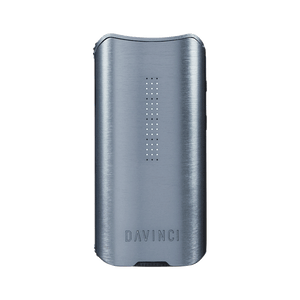 The DaVinci IQ2 offers a highly customizable vaping experience compared to its predecessor, the IQ. This durable and ergonomic vaporizer includes a Dosage Pod for concentrates. With Smart Path™ Technology, precision temperature control, and Bluetooth smartphone integration, the IQ2 allows tracking and reporting of dosages. It also features 35% more air holes and an Air Dial™ for adjustable airflow. The vapor path is made of glass and ceramic zirconia for pure flavor transfer and easy cleaning. The glass-lined oven supports up to .5 grams of dry herb or a .2-gram Dosage Pod, and the Pearl accessory extends the oven size by 30%. The IQ2 heats up in under 60 seconds with its removable and rechargeable 18650 battery.
The Arizer EQ is a desktop/tabletop unit capable of filling bags/balloons for super cool and easy vapor. Just heat up the unit, fill the load, turn on the fan and fill the bags. Ultra efficient and gentle as can be on the throat and lungs. You can also draw without the fans, using the included whip, or even draw it through your favorite water pipe. I love that this device looks inconspicuous. It looks like (and is…) an aromatherapy potpourri warmer – especially if you fill up the included dish with some flowers/smelly girly stuff. It even has a remote so you can turn it on and get it warmed up without leaving your seat. I love this vape because it can do everything the Volcano does and more, at a fraction of the price. 
Troy is a medical marijuana user from California who suffers from VAS – Vaporizer Acquisition Syndrome. He studies and tests each product and provides vape reviews at 420vapezone.com. He likes long vape sessions on the beach, stoner comedies, and peeing from high places.