Heyo! Alex from PuffItUp here with another ultimate vape review. This time, we're showcasing the new X-MAX QOMO vaporizer. With a pocket-friendly, easily portable design and an affordable, entry level price, the QOMO is a great way to dip your toes into the e-rig waters.
If you have any questions about your new QOMO, or even if you're new to e-rigs entirely, this guide is for you.
Table of Contents:
What is the X-Max QOMO?
How to use your new QOMO
Getting the perfect draw 
Cleaning the QOMO E-rig
Troubleshooting error codes
Pros and cons of the QOMO
What makes an awesome e-rig?
What's in the box
Final thoughts
What is the X-MAX QOMO?
The QOMO is a pint-sized portable e-rig that packs a serious punch! It's the latest e-rig to be released by the folks over at X-Vape, who are long-time staples in the vaporizer industry.

E-rigs have been taking the world by storm, replicating the experience of a glass water pipe and quartz banger setup. You no longer need a torch on hand or a clumsy rig in order to vaporize your favorite extracts.

The QOMO is designed for beginners or those who need an affordable erig for on-the-go scenarios. If you've been looking for your first rig, the QOMO is a great introduction. The small size also makes it perfect for someone who's always on the go.
How to use your new QOMO
The QOMO bubbler only needs a small amount of water to function. In order to fill it up, I recommend using a slight trickle from your sink's tap. Only fill up to the red fill line - if you fill over that line, the bubbler may splash during use. Once your bubbler is filled, place it back on the device and load the bucket with your material.
Once your material is loaded, place the carb cap on the vapor dome and power it on with three clicks to the power button. The device's charging light will flash to show the charge level, and the power level light below the bubbler will begin to glow.
Press the power button twice in order to change the power level on the QOMO, and the power light beneath the bubbler will change colors to reflect the power level. Once you've selected your temperature, click the button once to start the heating cycle.
The power light will pulse a few times during pre-heat, then will change to a solid color to signal that it's ready to use. Take a draw using a slow, sipping style technique for the best results.
Getting the best draws from your XMAX QOMO
Be sure to Q-tip the bucket after every session. A clean bucket will always produce the best flavor, so be sure to wipe out any excess residue after a session with a cotton swab. We recommend using Sap Swabs to keep your atomizer clean as a whistle.

The QOMO works best with smaller loads. I recommend loading just enough material for one session to avoid overloading the device.

Use a small amount of water in the bubbler - follow the red fill line as a guide. The best way to fill the bubbler is to remove it from the device, then use a very slight trickle of water from the tap to fill it.

A slow, "sipping" style pull works best with the QOMO. If you pull too hard, you can potentially cause the material to splash over the walls of the bucket.

There are three heating levels on the QOMO: white is the lowest, green is the medium level, and red is the highest heat setting.
The best draws from your XMAX QOMO

| Heating Level | Coil Temperature |
| --- | --- |
| White | 536°F / 280°C |
| Green | 608°F / 320°C |
| Red | 662°F / 350°C |
How to clean your QOMO E-rig
Cleaning the QOMO is super simple! You can use isopropyl alcohol to clean the glass bubbler and glass vapor dome.
Alcohol on a paper towel is perfect for wiping down the coil and carb cap, and you can place a drop or two of alcohol on a Q-tip to clean out the vapor path in the device.
Pour a little alcohol into the bubbler and shake it to clean it out. Rinse with water a few times to get all the alcohol out.
Be sure to allow everything to thoroughly air dry before reassembling the device.
Troubleshooting error codes
On a rare occasion you may experience an error code from your QOMO in the form of flashing lights. There's a couple different steps you can try to fix it up.

If the light above the USB-C port is blinking red, your QOMO needs to be charged. Plug it into a USB-C cable for 1-2 hours in order to fully charge the device - the light will blink while charging, and then will glow green when your vape is done charging.

If the bubbler light is blinking red three times, it's possibly a bad connection with the atomizer. Remove your coil and thoroughly clean your QOMO, taking extra care to clean the threads and contact points of the atomizer.

Let everything air dry, then reassemble and test the device. If it's still not working, replace your atomizer and test the unit again. If that fixes everything up, the first coil is likely faulty and can be properly disposed of.
Pros and Cons of the Xmax QOMO
Pros
Affordable price point - Coming in at a wallet-friendly price of only $89, the QOMO is a great way to try out an e-rig without breaking the bank. Don't forget to use code PUFFEDUP for an extra 15% off!
Small size, pocket friendly - At only 5 inches tall from the base to the tip of the bubbler, the Qomo fits easily in your pocket or purse for transportation. It's the most portable e-rig we've seen yet.
Makes clouds like a champ - Despite the small size, this little rig packs a huge punch. The clouds are thick and the ceramic bucket atomizer tastes good, although it can have a subtle burnt flavor after heavy use.
Rapid heat up time - The QOMO only takes a few seconds to preheat - it's ready to use in a moment's notice. The 20 second session timer offers quick and easy sessions so you can take a quick draw while on the go.
USB-C Charging - We're big fans of USB-C charging here at PuffItUp - it's both faster and more reliable than Micro USB ports, and since USB-C is a universal standard, you'll always be able to find a charger for your device.
Cons
Bubbler isn't the best - The included bubbler is a little on the thin side, and the conical design doesn't offer the best percolation. It gets the job done, but we'd love to see more glass options down the line.
Ceramic bucket runs a little hot - The ceramic bucket used in the QOMO's atomizer gets a little warm during use, and the higher temps can introduce a slightly burnt flavor. For flavor chasers, I recommend sticking to the lowest temperature (White), while those looking for a bigger cloud may prefer to jump up to Green or Red.
Lacking alternative glass options - The QOMO is compatible with 18mm male joint bubblers, but there's no QOMO-specific glass on the market currently. The proprietary carb cap design also makes it hard to use different caps.
What makes an amazing e-rig?
Vapor quality: The QOMO's ceramic bucket atomizers output smooth and tasty vapor. It's a step up from a pen-style vaporizer, however the vapor can still taste a little burnt, particularly on higher temperatures.
Isolated vapor path: An isolated vapor path keeps your vapor from coming in contact with electronics, and provides the tastiest and cleanest vapor.
Build quality: High quality materials and components are vital when creating a good vaporizer. The QOMO's plastic body feels lightweight yet sturdy in your hand.
Battery life: The QOMO sports a 1350mAh battery cell that provides 10-15 sessions per charge. It's not the biggest battery around, but it's to be expected given the compact size, and it's enough juice to last for a day or two of vaping.
Portability: This is a pocket-friendly portable e-rig! It's small enough to toss it in your jacket pocket or your purse. It's the perfect size for someone who likes to vape on the go.
Coil reliability: The atomizer on the QOMO is designed to last up to 6 months, with a 30 day warranty on it in case there's any issues.
Session time: With a 20 second session timer and slightly warmer temperatures, the QOMO is designed to provide quick sessions with thick clouds of vapor.
What's in the box?
X-MAX QOMO
One atomizer (preinstalled)
Glass bubbler body
QOMO Carb Cap
USB-C Charging Cable
User Manual
Final thoughts
If you've been looking for your first e-rig, the X-Max QOMO is a great place to start. With a low profile, and pocketable design, the QOMO's good for the everyday traveler who likes to vape on the go. It's small and discrete yet powerful enough to last through a party, a concert, or even a weekend camping trip.
There is no perfect vaporizer, and there's a couple elements of the QOMO that fell a little short for us. The ceramic bucket can run a little hot, so we'd be interested in other coil options (like a quartz bucket) down the line. The default glass bubbler could also be a little thicker, and it would be cool to see other bubblers available in the future, too.
This vaporizer is awesome if you're ballin' on a budget, or even if you're looking to test the waters and try out your first e-rig. Don't miss out on the smallest erig in our inventory, the X-MAX QOMO. 
Can't get enough PuffItUp?
Thanks for reading our blog. Check out our Instagram page and tag us in your vape photos with @PuffItUp, we always love to see 'em! You can always post on our /r/PuffItUp subreddit if you have something you want to share. Want to chat with the PIU community? Come drop us a line on our Discord channel! We've been streaming on Twitch twice a week (Wednesday and Friday as of the time of this writing) - if you want to watch, stop by our Twitch channel!

What are your thoughts on the new X-MAX QOMO vaporizer? Drop us a comment below, we'd love to hear what you think about it. We always appreciate all of your feedback!


Most Popular Rigs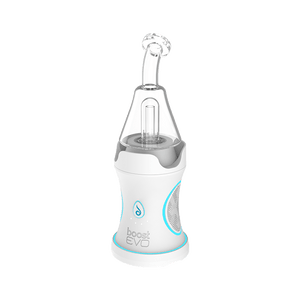 The Dr. Dabber Boost EVO is a high-performance concentrate vaporizer. With its patent-pending temperature control, quartz dish, interchangeable glass options, and long-lasting battery, it delivers amazing flavor. The beautiful LED glow adds to the overall appeal. 
Introducing AUXO Cenote, the portable premium e-rig for concentrates. With industry-leading technology and high-quality materials, its ceramic heating nail ensures even heat distribution, preserving the flavor and potency of concentrates. Recharge quickly with USB-C or enjoy the convenience of wireless charging.